At the end of October, Berlin surprised me with really nice weather, which made me very excited to take part in a great event – the Berlin Affiliate Conference. Ideas were shared, talks were given, and now that the dust has settled, I would like to share some information from my talk with you. I'm sure it will be useful for those who were present but didn't take notes and those who couldn't make it to enjoy my talk and Berlin's lovely weather!
The topic of my talk was "The Future of SEO." Being aware of the latest SEO trends, I discussed the main points we all need to focus on in order to keep up.
There are four points in our agenda:
Taking control of SERPs
The importance of mobile-friendliness
Speeding up your website
Monitoring your backlinks profile
Now let's have a closer look.
Taking control of SERPs
The first thing I want to address is the Google Knowledge Graph. This is the thing that strongly influences SERPs and, as a result, your click-through rate. Some time ago, Google changed the position of its Knowledge Graph, which is partly why the Google Golden Triangle is no longer relevant.    
Before Knowledge Graph appeared on the horizon, we were mostly concentrating on getting better rankings in Google, because that's where users are clicking and what they're paying attention to. But now, Knowledge Graph is what grabs most users' attention. Typically, it has all the information that users need and it has the best position on the page.
Additionally, Google keeps pushing more videos and images in results, and this can dramatically decrease your website's CTR. For instance, a US SERP consists of (in descending order) videos (34%), images (27%), Knowledge Graph Elements (20%), Google Maps (13%), and News (3%).
So, Google Knowledge Graph changed the rules of the game and became an important SEO factor influencing SERPs and user behavior. That's why it's simply a must-have for ensuring your website's search visibility. And here are some sad stories of big brands that were not informed enough to take advantage of Knowledge Graphs.   
The first one is the case of Contently. It's worth mentioning that Contently ranks 100 in the 2015 Inc5000 list. However, it's still struggling to fix its Knowledge Graph situation.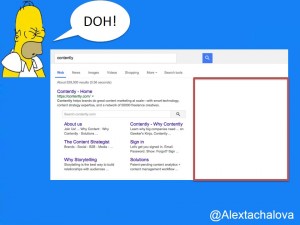 And then there's Philips. This company spent piles of money on a re-branding campaign. It created a new logo design as a part of this campaign, but when you search for Philips, guess which logo comes up in Knowledge Graph? Yep, the old one.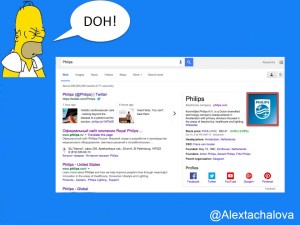 It doesn't matter whether you're a small or large company because Knowledge Graph Company Element is part of your brand awareness. It's the matter of your reputation and while your competitors might have already set up their knowledge graphs, you are still struggling with that. It's definitely time to deal with Knowledge Graph.
Here are some tips on how to add a Knowledge Graph:
Create a Wikpedia page for your company

Add

your company's

profile on Wikidata.org.

(If you currently have a Freebase profile, be sure to reference it in your Wikidata profile using the Freebase Identifier element.)

Implement

organization schema markup

on your website. Be sure to specify your logo, social profiles, Wikidata and your Wikipedia profile using the SameAs element.

Develop a strong

o

nline

b

rand

r

eputation,

a

uthority, presence on SMM channels,

Google+ Brand on Local Page
For those who want to take a closer look at this subject, here are some useful posts and resources:
Now let's talk about SERP cannibalism.
When you have a site with multiple webpages and you optimize all of those webpages for the same keyword or key phrases, your chances of being punished by Google are approximately 100 percent. When several pages target the same keywords, search engines get confused. In fact, it makes your own pages compete for targeted traffic, which will result in their losing their SERP positions. Here is example with Easyjet, who optimized 12 pages to the keywords "flights to liverpool"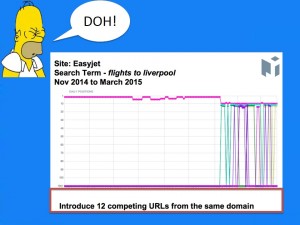 To learn more about SERP cannibalism, here are some great pieces that I recommend:
When it comes to controlling your SERPs, you cannot do without special tools. My favorite ones are the following: Pi Datametrics, SEMrush, SERPWoo, Advanced Web Ranking, SEOmonitor, AuthorityLabs, Kerboo, MOZ, WEB CEO, and Horizon (PIC).
Ok, let's move on to the next point in our agenda – Mobile Friendliness.
Speaking of mobile-friendliness, you should remember that, right now, it's not an SEO ranking factor. And if you don't believe me, then take a look at SouthWest Airlines' website. More than 90 percent of its pages are non-mobile friendly, and it doesn't affect the site's SEO visibility in mobile or desktop rankings (PIC).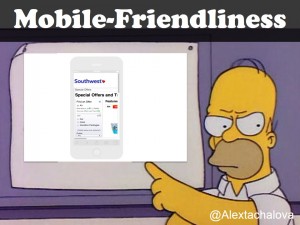 However, luck of mobile-friendliness is affecting users and moving them to your competitor mobile optimized website, which gives them a better user experience. Also, it's a well-known fact that among ranking factors, user engagement plays a significant role. So when your bounce and exit rates are increasing, it sends a bad signal to Google, which may later translate into a significant drop in visibility.
Now I think we have come to the moment when we're ready to talk about the industry that adjusts itself to the vicissitudes of the digital world faster than any other. I'm talking about porn. In the very beginning of the Internet era, pornographers realized the potential of digital commerce faster than anyone else. Also, they were among the first who discovered that traffic and data are "the coin of the digital realm."
So, I could not overlook insights from this industry, especially PornHub. PornHub is a company that prefers learning a lot about its users – it does research on a regular basis. And these insights clearly show the importance of having a mobile version of your website.
So without delay here are some practical tips for making your website more mobile friendly:
Create a mobile version of your site with the help of affordable tools like Mobify, Mofuse, MobisiteGalore, etc.
Or simply make your website responsive in order to render your pages correctly for both desktop and mobile traffic
Use Mobile Plugins on popular CMS platforms
Create a Mobile app
Some additional information for those who need to dig a bit deeper:
Our next stop is website speed.
Let's take a look at US search ranking factors. As you can see, website speed is among the most crucial.
Here are some nice services that can analyze your webpages and tell you why they're slow:
Long story short, these are my top five tips on how to improve your site speed:
Reduce the number of requests – minimalize HTTP connections
Make your server-side awesome (hosting, database, response time, webserver, etc.)
Clean your HTML code
Decrease the size of requests – minimize all your files and optimize image file sizes
Use proper cashing
And of course, some additional reading on the subject:
And last but not least – monitor your backlinks.
Google Penguin (and the consequences of its implementation) is a hot topic. And it will be relevant for along time, as Google announced that it was working on a new Penguin algorithm update.
So what core principle will help you cope with the Penguin algorithm? The answer is "controlling your link profile." This is definitely a job for an SEO specialist. What should you do to be on the safe side? You need to control your backlinks. There some nice tools to use for that – here is my list of favorites: Moz, Cognitive SEO, SEMrush, Kerboo, Ahrefs, Majestic, URLprofiler.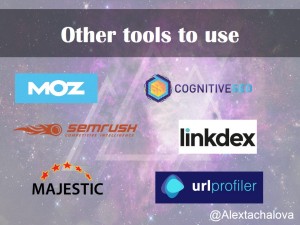 However, you will get more actionable insights from Kerboo.com for sure.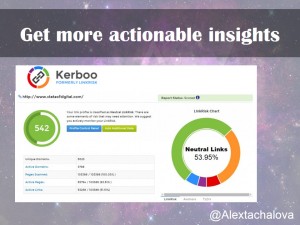 To dig deeper into this subject I recommend the following articles:
And that's it. I hope my talk was useful for you. Also, speaking of useful talks, I had the pleasure of sharing my talk with Fili Wiese from Searchbrothers.com. He delivered a super actionable and useful speech on "SEO and the Future of Search." Also, I was lucky enough to attend an excellent talk by Julia Logan on "Controlling Your Links and How to Build a Private Network." Make sure you check them out.
By the way, a couple of days ago I gave a speech at the online conference «WebPromo SEOday». Here you can listen to my talk "Make Love, Not Links: How to Build Links Through Relationship", as well as other participant speeches. Enjoy!