I'd like to begin with a famous quote from Donald Rumsfeld that accurately speaks to
the problem of perspective and human knowledge:
We know, that there are known knowns; there are things we know we know. We also know there are known unknowns; that is to say, we know there are some things we do not know. But there are also unknown unknowns – the ones we don't know we don't know.
I can't agree with Rumsfeld more. This logic is easily applied to the digital marketing sphere. When people are used to observing a phenomenon, they usually do not question their own opinions. "Unknown unknowns" are usually revealed when people reject conventional thinking and look at things from a different angle. The problem is that, usually, people just do not feel the need to change their typical way of thinking unless something extraordinary happens. When a client with their own business comes to you, they have their own vision of their situation – of their business, its challenges, its opportunities, etc. They want your expert opinion, but they usually do not expect you to radically change their vision. But sometimes this is what they need in order to find opportunities they've overlooked before. In other words, they need to discover these "unknown unknowns," and your objective as an expert is to pinpoint them and bring them to light for your clients.
Our clients see their situation from the point of view of an insider. Mostly, they're too focused on their own internal processes and don't have enough time to stop and observe their competitive landscape. The digital marketing expert's mission is not only to provide clients with ready-to-use guidelines and how-tos, but to broaden their perspectives and help them think outside of the box.
Unfortunately, that's not always so easy to accomplish, which is why I want to share with you the kinds of approaches I've used to more effectively convert potential clients. This step-by-step outline will provide you with a detailed overview of what you should do to make things happen.
This post will also address the most widespread prejudices I've encountered when dealing with digital marketing clients. I've even included some specific tools that will help you in this uphill battle.
Myth #1: "We know our competitors. We're totally aware of what's going on in our market."
That's what you hear from 99 percent of business owners. However, in reality, most of them don't know with which websites they're competing in organic and paid search, how their competitors get traffic, or whether their competitors are actively investing in search traffic. As a result, they don't understand their competitive landscape or what their real strengths and weaknesses are. If you can convince a potential client that they're not aware of their competitive landscape, then you can close any deal.
But for digital marketers, our competitors are not simply other companies. They're also other domains that show up for the same keywords in search. The more keywords two domains have in common, the more directly they are competing with each other. Also, it's good to consider not only keywords shared between sites, but also domain size. Your job here is to show how you can easily get the necessary data and deliver it to your client's desk. There are plenty of ways to get this data—starting with simply Googling  and analyzing industry reports. For sure, you can check all your keywords manually and then map your competitive landscape, but this doesn't make sense as there are plenty of reliable tools that can provide you with valuable insights in only a few minutes. You can use SEMrush, SpyFu, Searchmetrics, SimilarWeb, and many others. Here is a quide that will help you deal with the tools' technical nuances for your competitor's audit. Among those is also SERPstat, which has just recently been launched. Plus, it has many competitive advantages compared to other tools.
As mentioned previously, you typically identify your main competitors by shared keywords, but the size of their domains should also be taken into account. SERPstat's 'Competitors in Search' reports consider both factors and are capable of providing you with analysis of a domain's competitive landscape in organic and paid search. The following information will help you open your client's eyes to the real competition they should consider.
In the screenshot below, you can see SERPstat's competitor research for the domain asos.com.
So, this section will show you the actual number of keywords shared with competing domains. Missing keywords are also displayed in the report, which can help you realize which opportunities your client is missing. The 'Relevance' metric takes into consideration both the number of shared keywords and the domain size, so that you know which ones are your direct competitors.
It is not unusual for your organic and ad competitors to be different companies. Typically, you rely on ads when your SEO is weak. Let's have a look at the next SERPstat report, which shows ad competitors for asos.com – they are completely different from asos.com's organic search competitors. Which is quite logical – you want to appear in ads by the search queries for which you do not appear in organic results.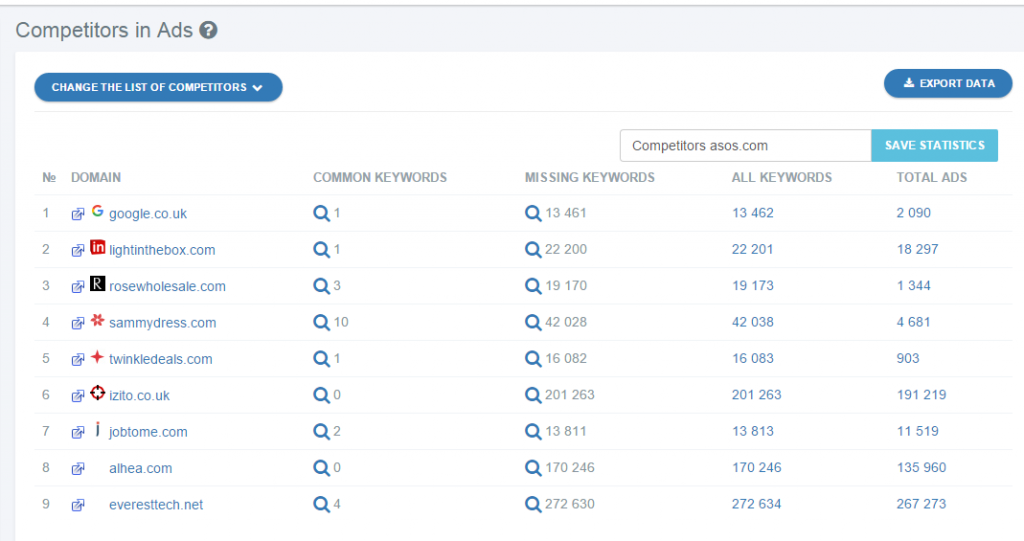 Furthermore, it happens quite often that offline and online competitors do not match, or at least do not match in 100 percent of cases. There's no need to go through an overwhelming explanation of when this happens.
Let's take an example from our own industry. If we do keyword research, we find that Search Engine Land is an online competitor of every digital marketing agency or digital marketing tool.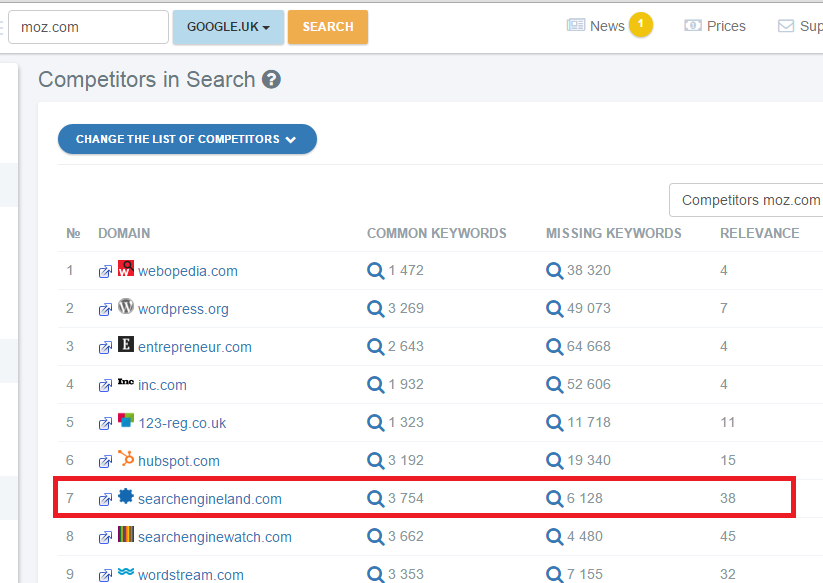 Search Engine Land is not a direct competitor of Moz, but the domain searchengineland.com is, and it will probably steal Moz's traffic from specific keywords.
It is essential to see the competitive landscape as a whole. The following SERPstat graph depicts a site's most relevant competitors in organic search, and allows you to see which of them are more likely to be your direct competitor. The x-axis depicts 'Recall' – the percentage of keywords a queried domain shares with its competitors (in queried domain semantics), and the y-axis depicts 'Precision' – the percentage of keywords a competing domain shares with the queried domain.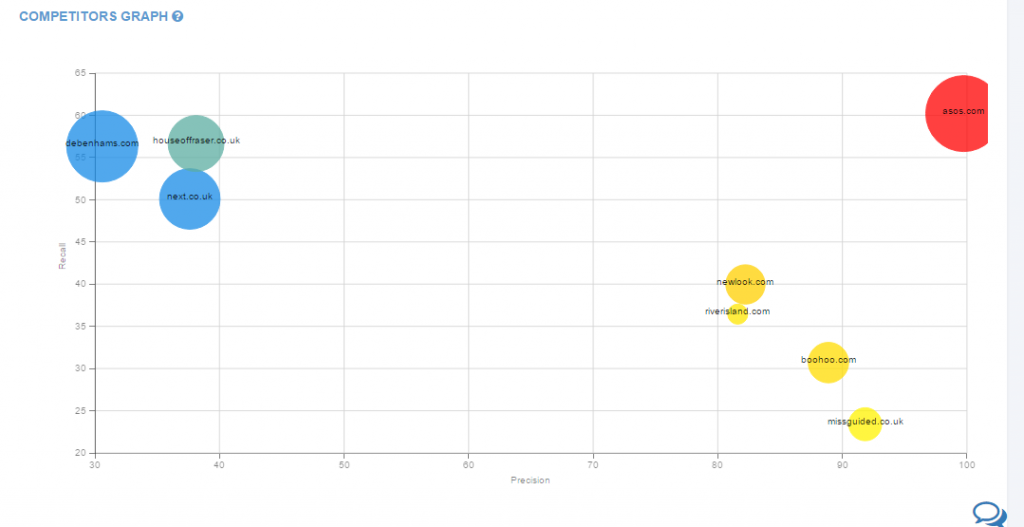 Using this data to build your case, you can easily persuade your client that proper research is a must. Just a quick professional look through the lens of special tools can illuminate much of what has been invisible to the client.
Myth #2: "We don't need to track our competitors' activities on a monthly basis"
Sometimes business owners just do not want to spend their resources on monitoring their competitors. "Why do that?" they ask.
The answer is easy: things change all the time. The digital marketing sphere is mercurial. You need to know when the market is shifting and react fast. Old rivals can increase their search marketing budgets and easily move from a passive presence to more proactive positions. For instance, they can always improve their visibility and optimize their websites for mobile devices. New market players might be far away from the first two search pages, but slowly moving towards them. So, if you keep an eye on them, you won't be surprised.
You must always be alert, because the alignment of forces can change quickly. You should know your competitors in order to learn from their success and failures, and to avoid losing your share of the market. And this is where the next most popular client delusion lies.
Myth #3: "We have a substantial SEO presence in our industry."
'SEO presence' is a general term, and it applies to so many instances. It is essential to have a broad view of the whole landscape, keeping in mind more than your site's performance for specific keywords and the amount of traffic you receive.
So, how can you identify your client's landscape, and make your pitch even more powerful, when you have the necessary data on hand to prove that they need your service? What I usually do for my clients is some plotting, because visuals are more illustrative and persuasive. There are several digital marketing tools that can provide you with an at-a-glance overview of what share of the market your client's domain has compared to its major competitors. For this purpose, I prefer to use SERPstat, because I love how it helps you create data visualizations. This tool combines an impressive analytical capacity and a comprehensive visual representation. SERPstat offers a special graph depicting your and your competitors' domains' keyword and visibility shares.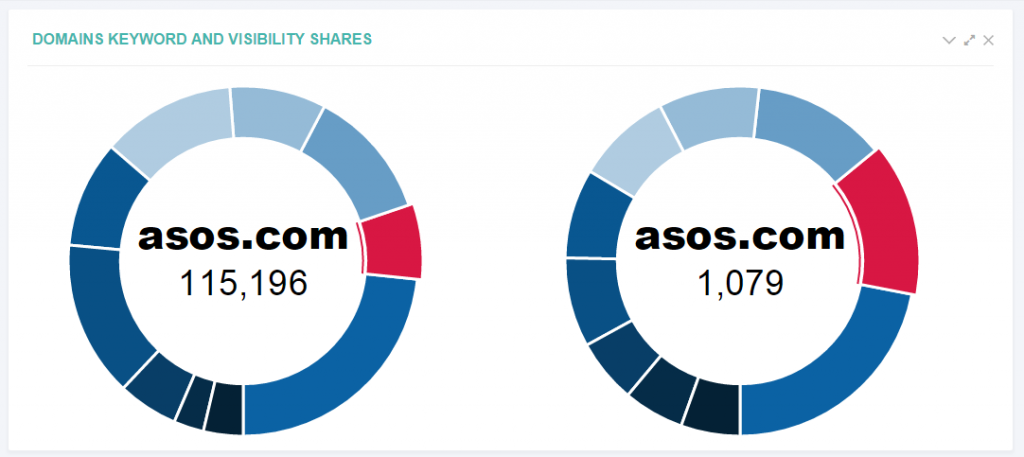 A site's visibility is a very eloquent metrics that takes into account not only the number of keywords the domain ranks for, but keyword search volume as well. That's why it can offer your clients a valuable insight into their actual SEO presence. These diagrams speak for themselves and give your client a clear view of what they should strive for. The diagram on the right displays the absolute number of keywords both your client's and their competitors' domains are ranked for. The left one shows the visibility index.
Sometimes, it's better to make the extra effort and use Excel to show the exact percentage of share rates. For this purpose, you should export data from SERPstat's 'Competitors in Search' report. In my graph below, you can see the percentage share of SEO presence asos.com and its competitors have achieved.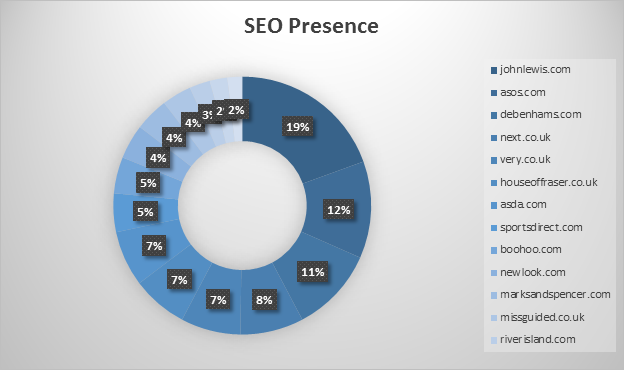 The other issue that can totally diminish any domain's visibility is Google's SERP Features. SERPstat's report of Organic Search Queries shows you if Google's SERP for a specific keyword will include any special features. For example, as you can see in the screenshot below, Google's SERP for "dresses" will contain Product Listing Ads and a News Box.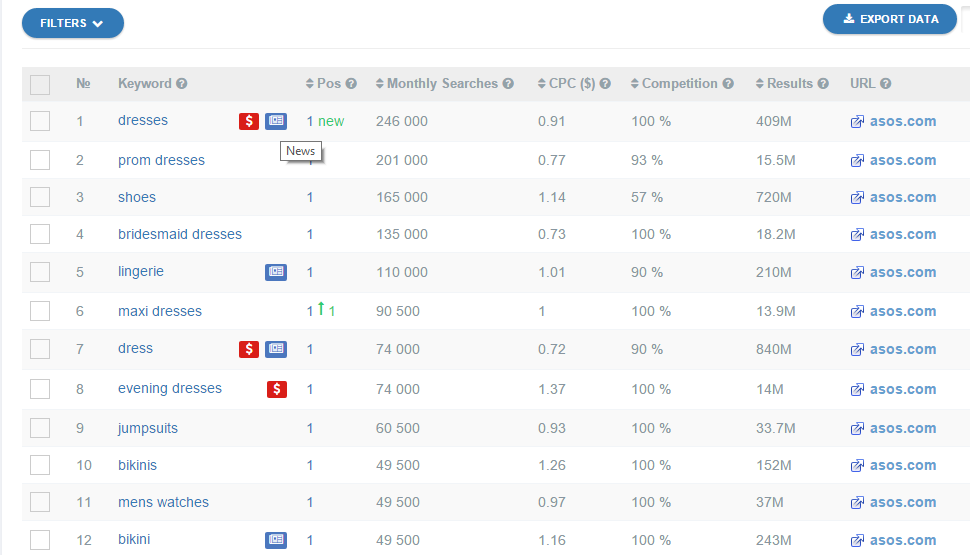 This is very important information, because it's not unusual for Google to include its features in SERPs. Even if you have reached the first position in Google's SERP for some keywords, but the SERP for these keywords also contains other elements like an Answer Box or Carousels, your site's visibility will be substantially diminished. So, your client should bear this fact in mind and not be distracted by their site's high performance, because sometimes occupying a top position in a Google's SERP does not equal high visibility.
Myth #4: "We don't need keyword research. We know our keywords."
Do they really? I would say that they only have a clue about a small part of the situation.
The digital market is constantly evolving, and customers' needs and interests, as well as the structure of their queries, are constantly changing. You need to do keyword research on a regular basis simply to know what users are searching for.
If your client tells you they don't need keyword research, you can easily win them over by showing their domains' keyword dynamics, as well as their rivals' keyword strategy. SERPstat allows you to show both these things. It shows you general elements like 'New Keywords' and 'Lost Keywords,' as well as 'Improved Keywords' and 'Declined Keywords.'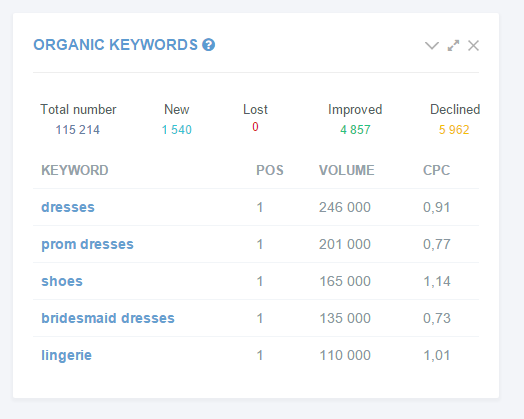 SERPstat will also let you know the keyword volume per month for every keyword the domain is ranked for and its cost-per-click rate—in case you want to bid on this keyword in ads.
One of SERPstat's strong suits is its graphical representations. It features a Venn diagram graphic that illustrates where your domain and your rivals' overlap, and also where you are missing opportunities to take profits away from your competitors!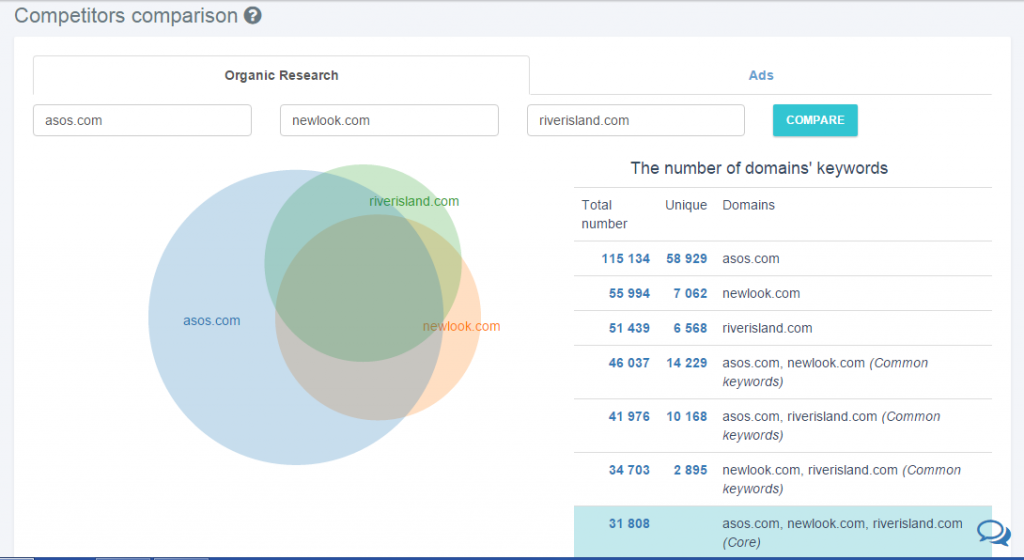 This diagram compares domains according to their keywords in organic and paid results. You can see which keywords are shared and choose three domains to compare. You can either choose to compare your domain with two of your competitors, or select three of your rivals to analyze.
Myth #5: We don't need long-tail keywords—they don't bring traffic."
Every client wants you to do your best for them. And of course they have their own idea of what that means. It's always difficult to change their opinion, especially when it comes to long-tail keywords. A widespread belief is that long-tail keywords don't bring traffic.
I can assure you that this situation is not so one-dimensional. There are a number of domains that are optimized for long-tail keywords, and they succeed in attracting a relevant audience thanks to their lower rate of competition. There is a simple correlation. You can try to target the most popular keywords, but it will be difficult, and it's less likely that you will gain any ground. You can instead optimize your website for long-tail keywords with a low search volume. In this case, the same results are much more easily achieved, which is what your client should know.
I really love how Brian Dean from Backlinko.com has proven that using long-tail keywords is a winning strategy.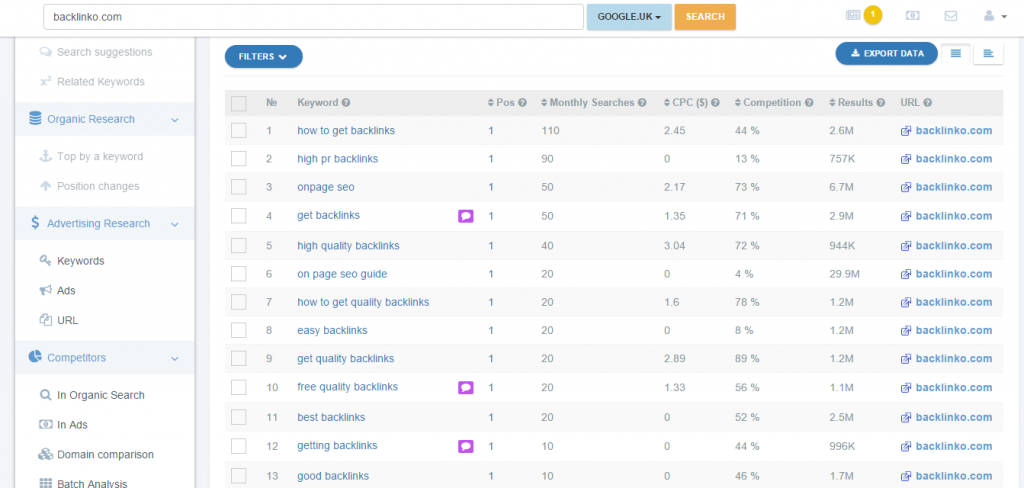 You can see that Backlinko.com has been optimized for low search volume keywords, including long-tail keywords, and this brings it quite a lot of traffic:

To summarize, pleasing your clients is always difficult. The situation is even harder for a digital marketing agency, as your clients will want to evaluate not only the results of your work (which can take time to show), but your process itself. It is not unusual for a client to question your proposals and decisions. You need data to make your case persuasive. With the help of a data-driven approach, you can point out the advantages and disadvantages of any digital marketing strategy, and find the right graphs and examples to make the perfect pitch.
However, I encourage you never rely blindly on any tool—double-check everything before drawing any conclusions. Only an integrated approach that involves professional tools, insights and common sense will bring the best results. And, if you have any questions or just want to share your personal experience with combating your clients' suspicions, then do it right now!