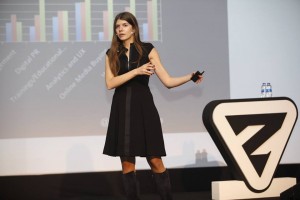 About Alex
Alexandra Tachalova has worked in digital marketing for over six years. She is a digital marketing consultant, helping makers of digital marketing tools to open new markets and boost sales. Previously, she was responsible for advancing SEMrush's brand presence in European markets. Alex is a frequent speaker, and you can find her at all the major search industry events such as BrightonSEO,
Ungagged, SEOzone, SMX, SEMdays, and many more.

---
 Upcoming speaking engagements
If you want to invite me to give a talk at your event contact me or send me a tweet.
---
My areas of expertise include, but are not limited to:
Content Marketing
SEO
Competitive Intelligence
Digital Marketing Strategy
Lead Generation
Social Media
Inbound Marketing
PR
I'd also be happy to join your webinar/podcast — contact me.
---
Previous speeches and presentations
| | | |
| --- | --- | --- |
|  June 8, 2018 |  SEO Conf |   Online |
| June 15, 2017 |  SearchLeeds |  Leeds, UK |
| May 23, 2017 | Ecommday |  Online event |
| November 12–16, 2016 |  Ungagged |  Las Vegas, USA |
| October 21–22, 2016 | DigitalZone | Istanbul, Turkey |
| July 15, 2016 | 8P | Odessa, Ukraine |
| July 14, 2016 | SearchLeeds | Leeds, UK |
| July 8–9, 2016 | WebMarketingFestival | Rimini, Italy |
| April 21–22, 2016 | BrightonSEO | Brighton, UK |
| March 20, 2016 | SEMPPRO | Kiev, Ukraine |
| March 10–11, 2016 | InOrbit | Ljubljana, Slovenia |
| February 4–7, 2016 |  London Affiliate Conference | London, UK |
| November 27–29, 2015 | SEOzone | Istanbul, Turkey |
| October 22–25, 2015 | Berlin Affiliate Conference | Berlin, Germany |
| September 24–25, 2015 | SEMdays | Bucharest, Romania |
| June 22, 2015 | Search Bootcamp | London, UK |
| May 16–18, 2015 | UnGagged | London, UK |
| April 9–10, 2015 | BrightonSEO | Brighton, UK |
| March 20–21, 2015 | Be-Wizard! | Rimini, Italy |
| March 17–18, 2015 | SMX Munich | Munich, Germany |
| September 11–12, 2014 | BrightonSEO | Brighton, UK |
| April 30, 2014 | ADworld Experience | Bologna, Italy |
| April 12, 2014 | Hitmeister E-Commerce | Cologne, Germany |
---
You are also welcome to check out some of my presentations on the profile at SlideShare.com: